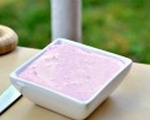 Prep: 48 hr
Cook Time: –
Total: 48 hr
Serving: Yields about 1-1/2 cups
The idea of making your own cheese can be a bit daunting. There are multiple steps that last over a few days. However, once you get a bite of this amazing homemade cream cheese, you'll realize all the time is worth it! This delicious, creamy spread is so much better than the store-bought version!
Ingredients
2 cups unpasteurized half and half
1/2 cup light cream
1 tablespoon light buttermilk
Salt
1/4 cup strawberry purée
Directions
In a small saucepan, heat the creams to about 90 degrees F. Remove from heat and stir in the buttermilk. Then, pour mixture into a stainless steel mixing bowl.
Cover the bowl with plastic wrap and leave it to get to room temperature for at least 24 hours. You'll notice the mixture will be thick, like yogurt.
Pour yogurt mixture over cheese cloth-lined with a pan beneath it. Allow it to drip for 15 minutes, then fold the cheese cloth over the cheese. Cover it with plastic and place it in the refrigerator for another 12 hours or so.
Remove the mixture (which is now like a curd) from the refrigerator and pour it into a medium mixing bowl. Add in salt to taste. Line a colander with cheese cloth and place the curd over the cheesecloth. Wrap again with plastic wrap and chill another 24 hours, or until cheese is firmer, but still creamy.
Mix in the strawberry purée for a fresh strawberry spread!