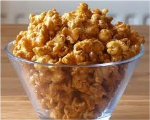 Prep: 15 min
Cook Time: 45 min
Total: 1 hr
Serving: 6-8 quarts
Ingredients
1 cup butter
2 cups brown sugar
1/2 cup light corn syrup
1/2 teaspoon baking soda
1 teaspoon vanilla extract
6-8 quarts popped corn
Directions
Preheat the oven to 250 degrees Fahrenheit.
Bring the butter, sugar and syrup and boil for 3 minutes. Remove from the heat.
Mix in the baking soda and vanilla. Pour over the popped corn and stir to coat.
Spread the corn into buttered baking pans and bake for 45 minutes, stirring frequently. Remove and allow to cool.