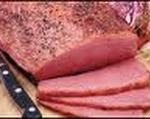 Prep: 1 hr
Cook Time: 50 min
Total: 1 hr 50 min
Serving: 12
Homemade Corned Beef Hash is a classic favorite. Substitute leftover chicken, turkey, beef or pork for the corned beef.
Ingredients
2 large onions, diced
5 ounces butter
2 ounces cider vinegar
2 large red peppers, seeded and diced
1 large green pepper, seeded and diced
2 1/2 pounds potatoes, cut 1/4 inch, diced and cooked
3 eggs
1 1/2 cups heavy cream
3 pound corned beef, diced into 1/4 inch pieces
1/2 cup pickles, chopped
1 1/2 tablespoons coarse grain mustard
1 tablespoon Worcestershire sauce
salt and pepper to taste
Directions
Saute onions in 3 ounces butter until translucent; deglaze with vinegar until dry. Add pepper; saute until tender. Reserve.
In food processor: blend until smooth; half the potatoes, all the eggs and 2/3 cup cream. Transfer to large bowl.
Add onion mixture, remaining potatoes, corned beef, pickles, mustard, Worcestershire sauce, remaining butter, salt and pepper. Toss gently to thoroughly mix.
Pour hash into greased 9 by 13 inch pan; smooth top. Bake at 450 degrees F for 15 minutes. Drizzle with half remaining cream and bake an additional 10 minutes.
Add remaining cream and bake until top is golden brown, about 30 minutes. Serve warm.