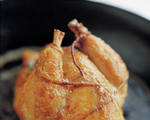 Prep: 15 min
Cook Time: 8 hr
Total: 8 hr 15 min
Serving: 6
Homemade Chicken Stock adds great flavor and make a terrific soup.
Ingredients
1 chicken carcass
1 cup mushrooms
1 medium onion, halved
7 celery stalks, roughly chopped
celery root and tops
1 bunch parsley
25 whole black peppercorns
Directions
Place the chicken carcass into a large stockpot. Fill with water to cover. Add the remaining ingredients and cook over very low heat 8 hours. Strain the broth, discarding the vegetables but reserving the carcass. Place the broth into a container and refrigerate. When the broth is chilled, skim off the fat that has risen to the top.