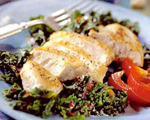 Prep: 10 min
Cook Time: 25 min
Total: 35 min
Serving: 2 Servings
Nothing says Southern cooking quite like chicken and greens. However, this recipe has been modernized and made much lighter than the traditional version by pan-searing the chicken and keeping the greens simple with garlic and a drizzle of balsamic vinegar.
Ingredients
1-1/2 tablespoons olive oil
2 medium skinless, boneless chicken breast halves (about 8 ounces total)
Sea salt and freshly ground pepper
1/3 cup reduced-sodium chicken broth
4 cloves garlic, minced
1/8 teaspoon crushed red pepper
1/8 teaspoon coarsely ground black pepper
8 cups torn mixed greens
Balsamic vinegar
Directions
Place a large skillet over medium heat and add the olive oil.
Sprinkle the chicken breasts on both sides with salt and pepper.
Once the oil begins to shimmer, add the chicken and sear on both sides until brown, then reduce the heat to medium-low and continue to cook, covered, for an additional 11 minutes.
In the meantime, place the broth, garlic, crushed red pepper, and a few grinds of fresh black pepper into a large saucepan and bring to a boil.
Once boiling, add the greens, reduce the heat, cover and simmer for 10 minutes, stirring occasionally.
Serve the chicken on top of the greens after drizzling with a bit of balsamic vinegar.