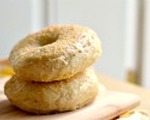 Prep: 32 hr
Cook Time: 15 min
Total: 32 hr 15 min
Serving: Yields 12 bagels
Leave the store-bought bagels behind and make these amazing ones yourself. They are complicated and take almost 32 hours to complete -- but are worth every second. Crispy exterior, soft and moist interior and an amazing flavor you can only find in specialty bagel shops. Even though they are a lot of work, you'll never go store-bought again.
Ingredients
FOR THE SPONGE
1 teaspoon active dry yeast
4 cups unbleached bread flour
2-1/4 cups water, room temperature
FOR THE DOUGH
1/2 teaspoon active dry yeast
3-1/2 cups bread flour
2 teaspoons salt
1 tablespoon brown sugar
3 tablespoons Parmesan cheese
Dash of salt and pepper
Directions
To make the sponge, stir yeast and flour together in a large mixing bowl. Add water and mix until fully combined. Cover with plastic wrap and let rise in a warm room for at least 2 hours.
To make the dough, add the rest of the yeast to the batter. Slowly add in the remaining 3 cups of flour and stir until fully combined. Batter will be just a little crumbly. Add in brown sugar.
Move the dough to a floured surface and knead until elastic, about 6 - 8 minutes, adding in the additional flour when kneading. Divide dough into 4-inch rolls. Cover rolls with a damp towel and let rise about 20 minutes.
Line a few baking sheets with parchment paper. Taking each roll, stick your fingers into the middle of the dough and push out, making a hole in the center. Place each bagel onto the parchment paper. Cover with plastic wrap and place in the refrigerate. Chill overnight.
When the bagels are ready to cook, heat a large pot of water to a boil. Add salt. Place bagels into the boiling water and boil for about 1 minute on each side. Remove from pot and place on parchment paper covered in cornmeal.
Sprinkle bagels with Parmesan cheese. Preheat oven to 500 degrees F. Place bagels in the oven and bake for 5 minutes. Rotate the pan and bake another 5 minutes on 450 degrees F, or until golden brown.