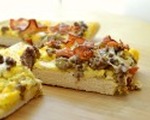 Prep: 5 min
Cook Time: 12 min
Total: 17 min
Serving: Serves 4 people
Whoever said eating pizza for breakfast clearly never had this pie. Hearty sausage, crispy bacon, sharp cheddar and fresh mozzarella all served on a homemade dough. Serve up this delicious breakfast pizza at your next brunch for a crowd-pleasing entree, for kids and adults alike!
Ingredients
FOR THE DOUGH
1 package active dry yeast
1 cup warm water (110 degrees F)
2 tablespoons olive oil
1 teaspoon sugar
2-1/2 cups unbleached bread flour
FOR THE TOPPING
1-1/4 cup pork sausage, fully cooked
1/2 pound bacon, cooked
1 cup sharp cheddar cheese
1/3 cup shredded mozzarella cheese
6 eggs, scrambled
Salt and pepper
Directions
To make the dough, add active dry yeast, sugar and water. Let it sit for 5 minutes or until foamy. Add in the flour, olive oil and salt, mix until fully combined. Pour dough onto a lightly floured surface and knead for 6 - 8 minutes or until elastic. Roll the dough into a circle, about 1/4-inch thick.
Preheat your oven to 450 degrees F. Drizzle dough with olive oil and bake for 7 minutes or until golden brown.
In a medium pan, add eggs and scramble until fully cooked. About 2-1/2 minutes. Once dough has been cooked, sprinkle eggs on top. Crumble sausage and bacon on top. Sprinkle with cheddar and mozzarella cheese. Add salt and pepper.
Bake for another 4 minutes or until cheese is melted.