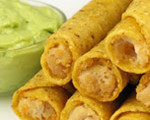 Prep: –
Cook Time: –
Total: –
Serving:
Once the school year hits, the crazy school night schedule seems to hit, too. The second that afternoon school bell rings, signifying the end of another academic day, moms everywhere hit the ground running. If you've found yourself run into the ground in these after school hours, it's likely you've also found yourself somewhere in the middle of a hectic evening schedule, getting the stare-down from a bunch of hungry kids. Now is not a time for panic. Here is a super-fast recipe that will help you feed your family a home cooked meal in less than fifteen minutes, making every after school evening a little less crazy, and a lot more delicious.
Ingredients
1 large can cooked chicken breast
4-ounces cream cheese
1 cup sharp cheddar cheese
Corn tortillas, taco size
Directions
Combine a large can of cooked chicken breast with 4-ounces of cream cheese, and 1 cup of sharp cheddar cheese.
Spoon into the center of small tortilla shells. Roll the shells up, burrito style, then place on a cookie sheet.
Spray each taquito generously with no-stick cooking spray (olive oil or butter flavor preferred).
Bake in an oven preheated to 425 degrees F for 12 to 15 minutes, or until the tops of the tortillas are slightly browned.