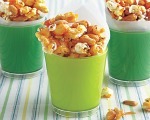 Prep: 10 min
Cook Time: 1 hr 10 min
Total: 1 hr 20 min
Serving: 10 People
This snack is sure to make it feel like springtime and baseball season, but you can eat home run popcorn jax any time of year! Try different nuts and seasonings for something a little out-of-the-ordinary.
Ingredients
3 quarts popped corn
3 cups mixed, unsalted peanuts
1 cup brown sugar, packed
1/2 cup dark corn syrup
1/2 cup butter
1/2 teaspoon vanilla
1/2 teaspoon salt
1/2 teaspoon baking soda
Large, disposable aluminum roasting pan
Directions
Preheat your oven to 250 degrees F. Pop your corn and place in the large roasting pan along with the peanuts. Place in oven to keep warm.
In a large, heavy saucepan, combine the sugar, corn syrup, butter and salt over high heat. Stir the mixture constantly until it boils and reduce heat to medium. Cook for another five minutes without stirring. Remove from heat and add the vanilla then baking soda.
Remove the roasting pan from the oven. Drizzle the glaze over the popcorn and peanuts. Stir well to coat evenly. Return the popcorn mixture to the oven for about an hour. Be sure to stir the mixture occasionally.
Cool the popcorn mixture and break apart. Store any leftovers in an air-tight container.