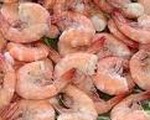 Prep: 20 min
Cook Time: 25 min
Total: 45 min
Serving: 6
Holiday Egg Rolls are worth the extra work because they are fabulous!
Ingredients
1/4 cup vegetable oil
1 pound lean pork, cubed
1/2 pound frozen raw shrimp, shelled, deveined, chopped
4 cups bean sprouts
2 cups celery, chopped
8 green onions, chopped
1 teaspoon salt
1 tablespoon cornstarch
2 tablespoons soy sauce
1 package egg roll skins
1 egg, beaten
oil for frying.
Directions
Heat vegetable oil in wok or skillet. Add pork. Cook until pork loses color. Add shrimp. Cook for 1 minute. Add vegetables and salt. Cook for 2 minutes, stirring often.
Sprinkle with cornstarch; mix well. Stir in soy sauce. Cook for 1 minute. Turn into a colander; cool completely.
Remove skin from egg roll. Place 2 to 3 tablespoons cooled filling on dough slightly below center. Brush dough edges with egg. Fold 1 corner over filling. Fold 2 opposite corners toward the center. Roll toward remaining corner to form a cylinder.
Fry in deep fat at 375 degrees until golden brown. Drain.