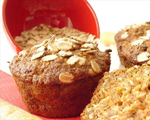 Prep: 10 min
Cook Time: 20 min
Total: 30 min
Serving: 20 People
These sweet muffins are actually quite healthy. Raisins can be substituted for dried prunes or apricots.
Ingredients
2 cups flour
1/3 cup sugar
1 teaspoon salt
1 teaspoon baking soda
1-1/2 cups rolled oats
1 cup bran or wheat germ
1/2 cup raisins
2 eggs
1-1/3 cups buttermilk
1/2 cup light molasses
Directions
Preheat oven to 350 degrees.
Mix together flour, sugar, salt and baking soda.
Stir in oats, bran and raisins.
Mix together eggs, buttermilk and molasses. Add to flour combination.
Pour batter into prepared muffin tin.
Bake at 350 degrees for 15-20 minutes.