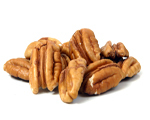 Prep: 10 min
Cook Time: 10 min
Total: 20 min
Serving: Makes enough icing to frost one 9x13 sheet cake.
This icing is ideal for white or yellow sheet cakes or pumpkin bread. Can be used with most desserts.
Ingredients
1 egg
2 tablespoons cornstarch
2 cups half and half
1 teaspoon salt
1 cup sugar
1 cup hickory nuts, chopped
Directions
In a saucepan, beat egg slightly with a fork.
Add cornstarch, half and half, salt and sugar; mix well.
Boil until mixture thickens.
Cool slightly and add hickory nuts.