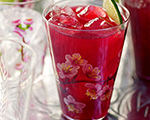 Prep: 1 hr 10 min
Cook Time: 4 min
Total: 1 hr 14 min
Serving: 4 Servings
Serve this hibiscus-infused tea cocktail over ice, and garnish with a slice of lime.
Ingredients
4 cups water
2 Red Zinger tea bags
1/3 cup sugar, or to taste
2 tablespoons fresh lemon juice
1 tablespoon fresh lime juice
1 cup vodka
Directions
Boil 2 cups of water in a small saucepan, remove from heat, and then add the tea bags to steep.
Remove the tea bags and add the sugar. Stir until sugar is totally dissolved and set aside to cool for 30 minutes.
Once cool add the lemon juice, lime juice and vodka and stir to combine. Refrigerate for 30 minutes before serving over ice.