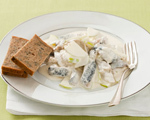 Prep: 12 hr 15 min
Cook Time: –
Total: 12 hr 15 min
Serving: 8 servings
A Jewish-inspired, no-cook appetizer or brunch dish with delicious sweet and sour flavor, serve with sliced pumpernickel bread.
Ingredients
1 pound pickled herring in wine
1 onion, thinly sliced
1 cup sour cream
2 tablespoons cider vinegar
1 teaspoon sugar
1/2 teaspoon freshly ground black pepper
2 Granny Smith apples, thinly sliced in 1-inch pieces
1 cup walnut pieces
Directions
Remove the herring from its liquid (do not discard) and cut into 1-1/2-inch pieces. Place the fish into a small bowl with the onion and toss to combine.
In another bowl, whisk the sour cream, cider vinegar, sugar, and black pepper together until blended, adding a bit of the reserved herring liquid to taste.
Mix the herring mixture with the sour cream mixture until combined, and then fold in the apples and the walnuts.
Cover the bowl and refrigerate overnight.