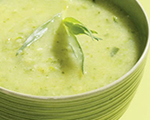 Prep: 10 min
Cook Time: 15 min
Total: 25 min
Serving:
This soup can be served either warm or chilled; the perfect light meal for a warm summer night.
Ingredients
3 cups reduced-sodium chicken broth
1-1/2 pounds zucchini (about 3 medium), cut into 1-inch pieces
1 tablespoon chopped fresh tarragon or dill or 1 teaspoon dried
3/4 cup shredded Cheddar cheese (3 ounces)
1/4 teaspoon salt
1/4 teaspoon freshly ground pepper
Directions
Put the broth, zucchini and tarragon in a large sauce pan and bring to a boil.
Once boiling, reduce the heat to a simmer and cook for 10 minutes.
Using a handheld immersion blender, blend the mixture until smooth and then stir in the cheese and a sprinkle of salt and pepper to taste.
Heat the soup until the cheese has melted and then ladle into bowls and serve.