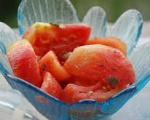 Prep: 1 hr 10 min
Cook Time: –
Total: 1 hr 10 min
Serving: 6 servings
Ingredients
6 large ripe tomatoes
1 teaspoon slt
1/4 teaspoon coarse black pepper
1/2 teaspoon dried thyme or marjoram
1/4 cup finely snipped parsley
1/4 cup snipped chives
2/3 cup salad oil
1/4 cup tarragon vinegar
Directions
Peel the tomatoes and cut in half crosswise. Layer in a deep bowl, sprinkling with the seasons and herbs as you layer.
Mix together the vinegar and oil and pour over. Gently tilt the bowl to coat all tomatoes.
Cover and refrigerate for at least an hour. Occasionally spoon the dressing over the tomatoes.
Drain and serve.