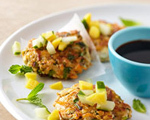 Prep: 8 min
Cook Time: –
Total: 8 min
Serving: Makes about 6 patties
These vegetarian herb cakes made out of tofu can be served as an appetizer with a simple soy and chili garlic dipping sauce.
Ingredients
1 16-ounce firm tofu (fresh bean curd), drained
1 large carrot, finely shredded (2/3 cup) v
2 green onions, chopped
1/4 cup snipped fresh cilantro
2 tablespoons snipped fresh mint
2 cloves garlic, minced
1/3 cup all-purpose flour
2 tablespoons reduced-sodium soy sauce
2 tablespoons canola oil
1/2 of a cucumber, chopped
1/2 of a mango, seeded, peeled, and chopped
Directions
Place the tofu in a bowl and mash with a fork. Stir in the carrot, green onions, cilantro, mint, garlic, flour, and 2 tablespoons of the soy sauce and continue to mix until thoroughly blended.
Form the mixture into about 6 small patties.
Place a large sauté pan over medium heat and cook the patties for 4 minutes on each side, flipping once.
Serve immediately garnished with the cucumber and mango.