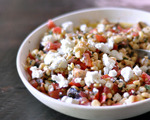 Prep: 10 min
Cook Time: 5 min
Total: 15 min
Serving: 6 Servings
A great way to use the fresh and juicy bounty of summer, serve this corn, tomato, herb and goat cheese salad as an accompaniment to grilled beef or poultry.
Ingredients
6 ears fresh sweet corn, shucked
4 medium tomatoes
1/4 cup fresh mint leaves, minced
1/4 cup fresh mixed herbs, minced
1 tablespoon olive oil
Sea salt and fresh black pepper, to taste
3 ounces soft goat cheese, crumbled
Directions
Cook the corn in a pot of boiling water for 5 minutes, drain and then set aside to cool.
In the meantime, roughly dice the tomatoes and place into a bowl with the mint and herbs.
Once the corn has cooled, carefully slice off the corn kernels with a knife and then add to the bowl with tomatoes.
Add a few pinches of salt and pepper to the salad, drizzle with some olive oil and then toss gently to combine. Serve the salad garnished with the crumbled goat cheese.