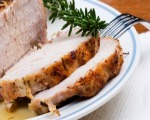 Prep: 25 min
Cook Time: 2 hr 20 min
Total: 2 hr 45 min
Serving: Serves 10 people
This dish is perfect for your holiday guests. Zesty lemon and fresh herbs makes Herbed Pork Loin a special dinner.
Ingredients
1, 3-pound pork loin, trimmed
1 teaspoon kosher salt
3 cloves garlic, peeled and crushed
2 tablespoons extra virgin olive oil
2 tablespoons chopped fresh rosemary
1 tablespoon grated lemon zest
3/4 cup dry vermouth or white wine
2 tablespoons white-wine vinegar
Directions
Using cooking string, tie the pork in a few spots so it won't flatten while roasting. In a small bowl, add salt and garlic and mash it into a paste. Stir in the oil, rosemary and lemon zest. Use the mixture to rub over the pork. Refrigerate for about an hour, uncovered.
Preheat your oven to 375 degrees. Add the pork to a roasting pan. Cook the pork, turning it one or twice, until a thermometer in the thickest part of the roast registers 145 degrees. This should be about 40-50 minutes. Once cooked, transfer the roast to a cutting board to rest for about 10 minutes.
While the roast is resting, add the vermouth or wine and vinegar to the roasting pan over medium-high heat. Bring the mixture to simmer and cook. Scrape up any of the browned parts. Cook until the mixture is reduced by half. This should take 2-4 minutes.
Remove the string from the pork and slice the roast. Use the sauce mixture to top the roast and serve.