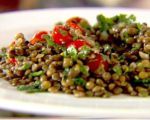 Prep: 10 min
Cook Time: 15 min
Total: 25 min
Serving: Serves 6 people
Herbed lentils with sun-dried tomatoes is a hearty dish that is full of nutritious value and yummy flavor! Great for lunch or dinner.
Ingredients
1 cup brown lentils, rinsed and sorted
2 cloves garlic, divided
1/3 cup chopped fresh dill
2 tablespoons chopped oil-packed sun-dried tomatoes, rinsed and drained
2 tablespoon fresh lemon juice
1 tablespoon extra-virgin olive oil
1 bay leaf
1/8 teaspoon freshly ground black pepper
Directions
Bruise one of the garlic cloves with the backside of a knife. Add the lentils, garlic and bay leaf to a medium-sized deep saute pan and add enough water to cover the lentils entirely, plus a few inches extra. Boil until lentils are tender, or about 15 minutes. Drain and discard the bay leaf and garlic.
Crush the other garlic clove. Add the garlic, lemon juice, oil and pepper to a serving bowl and whisk together until blended.
Gently fold the lentils, dill and tomatoes into the mixture and serve warm.