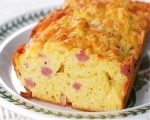 Prep: 15 min
Cook Time: 60 min
Total: 1 hr 15 min
Serving: Serves 8 people
A wonderful addition to any special breakfast or brunch, Herbed Ham and Cheese Bread is savory and combines several tastes into one dish. The leftover bread can also be toasted.
Ingredients
6 eggs
3/4 cup of buttermilk
1 teaspoon of prepared mustard
1-1/2 cups of all-purpose flour
2-1/2 teaspoons of baking powder
1/4 teaspoon salt
1 teaspoon of dried rosemary
1/2 teaspoon of ground black pepper
1 cup of cubed, cooked ham
8 ounces of sharp cheddar cheese, cut into 1/2-inch cubes
Directions
Preheat your oven to 350 degrees. In a large mixing bowl, beat the eggs until they're frothy. Add the milk and mustard to the eggs.
In a small bowl, combine the flour, baking powder, salt, pepper and rosemary. Add this dry mix to the egg mixture. Beat until all is smooth.
Stir the ham and cheese into the mixture. Transfer the mixture to a bread loaf pan, sized about 4x8 inches.
Bake uncovered until golden brown (about 55-60 minutes), and when a toothpick inserted into the middle of the loaf comes out clean.
Slice and serve slightly warm. Refrigerate the leftovers.