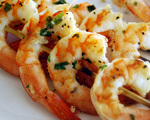 Prep: 2 hr 10 min
Cook Time: 4 min
Total: 2 hr 14 min
Serving: Makes 2 pounds of shrimp
A great dinner party dish, make sure you soak the wooden skewers before using so they don't get burnt.
Ingredients
3 garlic cloves, minced
1 medium yellow onion, diced small
1/4 cups minced fresh parsley
1/4 cups minced fresh basil
1 teaspoon dry mustard
2 teaspoons Dijon mustard
2 teaspoons sea salt
1/4 teaspoon freshly ground pepper
1/4 cups olive oil
Juice of one lemon
2 pounds shrimp, deveined
Directions
Place all of the ingredients in a large bowl and stir to combine.
Add the shrimp to the bowl, toss to coat with the mixture and marinate for up to 2 hours covered and at room temperature.
Brush the grill rack with oil and prepare the grill on medium heat.
Skewer the shrimp onto soaked bamboo or metal skewers and grill for 2 minutes on each side.