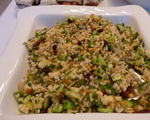 Prep: 10 min
Cook Time: 15 min
Total: 25 min
Serving: 4 Servings
Instead of serving a typical pasta salad at your next dinner function, try offering guests this hearty herbed grain salad made with a dry grain medley. Trader Joe's Harvest Grains mix works exceptionally well.
Ingredients
1-1/4 cups dry grains medley
1 large apple, diced
1 English cucumber, diced
4 green onions thinly sliced
1/3 cup dried cranberries
1/4 cup toasted sliced almonds
Large handful of fresh basil leaves, roughly chopped
Large handful of fresh mint leaves, roughly chopped
1/4 cup apple cider vinegar
Juice of 1/2 a lemon
3 tablespoons maple syrup
1 tablespoon Dijon mustard
1/4 cup Extra Virgin olive oil
Sea salt and freshly ground pepper to taste
Directions
Cook the dried grains according to package directions and then set aside to cool to room temperature.
Place the maple syrup, vinegar, olive oil, mustard, lemon juice and a few pinches of salt and pepper into a small bowl and whisk vigorously until blended.
Place the cooled grains, apples, cucumbers, scallions, herbs, cranberries and almonds into a shallow salad bowl and then add the dressing. Gently toss the mixture well to combine and then serve.