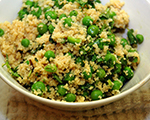 Prep: 10 min
Cook Time: 8 min
Total: 18 min
Serving: 4
This a wonderful and flavorful side dish that pairs well with most main dishes. Use fresh or frozen peas depending on the season.
Ingredients
1-1/2 cups vegetable broth
1 tablespoon extra-virgin olive oil
1 cup whole-wheat couscous
1-1/2 cups fresh or frozen peas
1 can garbanzo beans, drained
2 tablespoons chopped fresh flat-leaf parsley
2 tablespoons chopped fresh mint
2 tablespoons chopped fresh basil
1 teaspoon freshly grated lemon zest
Freshly ground pepper to taste
Directions
Cook the couscous according to package directions, substituting the broth for the water.
In the meantime, place the peas in a medium-sized saucepan and add enough water to barely cover. Sprinkle the peas with salt and cook on medium-low heat for about 3 minutes, and drain.
Transfer the couscous to a serving bowl and add the peas, garbanzo beans, parsley, mint, basil, lemon zest and pepper to the couscous. Gently toss until well combined, and serve immediately.