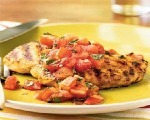 Prep: 15 min
Cook Time: 15 min
Total: 30 min
Serving: Serves 4 people
An easy dish with minimal clean-up, Herbed Chicken Packets puts a twist on chicken that's great for any night of the week.
Ingredients
2 tablespoons fresh dill, minced
1 teaspoon garlic, minced
Salt and pepper to taste
1 cup of cherry tomatoes, halved
t tablespoon of olive oil
4 chicken breast halves, skinned, boned and thinly sliced
4 cups of fresh spinach leaves, torn and firmly packed, and divided for use
Aluminum foil for baking
Directions
Preheat your oven to 450 degrees. Put a large baking sheet in the oven to heat.
Mix the dill and garlic in a medium bowl and season with salt and pepper. Combine the tomatoes, olive oil and one teaspoon of the dill mixture into a small bowl.
In a medium bowl, add the chicken to the remaining dill mixture.
Cut four sheets of aluminum foil, each about 18 inches long.
Place one cup of spinach onto each piece of foil. Divide the tomato mixture evenly, and spoon it onto the chicken. Fold the foil and seal the edges tightly into packets, and place them onto the baking sheet.
Reduce the oven to 400 degrees and bake the chicken until cooked, or for about 10 minutes.
Let stand for about 5 minutes in the sealed packets before serving.