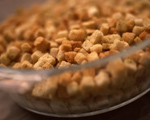 Prep: 5 min
Cook Time: 12 min
Total: 17 min
Serving: Makes 2 cups
Chervil is a culinary herb that has a distinct lemon-anise flavor. If you cannot find it at your local supermarket, use dill instead.
Ingredients
3 tablespoons of butter
4 ounces crusty bread, cut into 1/2-inch cubes (2 cups)
1-1/2 tablespoons chopped fresh chervil
Salt and freshly ground black pepper
Directions
Preheat your oven to 350 degrees.
Place the butter into a 3-quart saucepan and melt over medium heat.
Once melted, add the bread cubes, chopped chervil and a few pinches of salt and pepper. Toss to combine and then transfer to a rimmed baking sheet.
Bake the croutons for 10 minutes, or until golden brown.