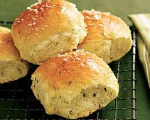 Prep: 1 hr 15 min
Cook Time: 20 min
Total: 1 hr 35 min
Serving: 21 rolls
Herb rolls just like Grandma used to make.
Ingredients
1 package active dry yeast
3/4 cup warm water
2 1/2 cups biscuit mix
1/2 teaspoon celery seed
1 teaspoon poultry seasoning
Directions
Dissolve the yeast in the warm water. Mix in the biscuit mix and remaining ingredients. Beat for 2-3 minutes.
Knead on a surface dusted with the biscuit mix until smooth. Roll out to 14x6 inches and 1/4 inch thick. Cut into thirds lengthwise, and then in 2 inch intervals widthwise to make 21 sections. Roll each into a ball.
Grease an 8 inch round pan and place 13 balls around the edge (not quite touching) and then 8 in the inner circle. Cover with a damp cloth and allow to rise in a dark area for 1 hour (or until doubled).
Bake at 400 degrees Fahrenheit for 15-20 minutes or until golden brown.