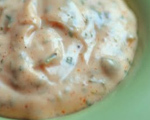 Prep: 5 min
Cook Time: –
Total: 5 min
Serving: 4 Servings
The French-invented Remoulade, also known as rémoulade, is a popular oil or mayonnaise-based condiment that is similar to tartar sauce.
Ingredients
1/4 cup extra virgin olive oil
1 tablespoon Dijon mustard
1 tablespoon freshly squeezed lemon juice
1/2 teaspoon Tabasco sauce
3 tablespoons chopped cornichons
1 tablespoon finely chopped flat-leaf parsley
2 teaspoons finely chopped tarragon
Sea salt and freshly ground black pepper
Directions
Place the olive oil, mustard, lemon juice, Tabasco, cornichons, parsley and tarragon into a bowl. Sprinkle the mixture with a few pinches of salt and at least 3 turns of ground pepper. Whisk the mixture vigorously to blend and serve.