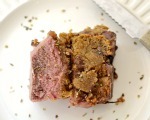 Prep: 5 min
Cook Time: 20 min
Total: 25 min
Serving: Serves 4 people
Want to give your lamb chop a burst of flavor? Try this recipe! Each chop is crusted in a garlic, onion and oregano crust and baked until the edges are crispy and the inside is melt-in-your-mouth tender and moist. For extra flavor, fry the chops in bacon or duck fat before you bake.
Ingredients
4 lamb loin chops
3/4 cup Italian seasoned breadcrumbs
2-1/4 tablespoons extra virgin olive oil
2 garlic cloves, quartered
1/2 medium onion, chopped
Liberal dashes of salt and pepper
1-1/2 tablespoons oregano
Directions
Preheat your oven to 325 degrees F.
Place the garlic, breadcrumbs, oregano, salt, pepper and olive oil in a food processor. Pulse until smooth. The mixture should look like a paste.
Press the breadcrumb mixture into the flesh of the lamb chops (on each side). Bake for 10 minutes. Flip each chop and then bake for another 5 - 10 minutes, or until the inside is fully cooked.