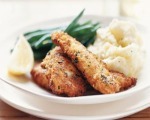 Prep: 10 min
Cook Time: 30 min
Total: 40 min
Serving: Serves 4 people
A versatile dinner recipe, Herb Crusted Chicken can be made using pork or salmon instead.
Ingredients
1 clove of garlic, peeled
1/4 cup of fresh, flat-leaf parsley
2 slices of whole-wheat bread
1/4 cup of grated parmesan cheese (1 ounce)
2 tablespoons of olive oil
1/4 teaspoon of kosher salt
Freshly ground black pepper
4 skinless, boneless chicken breast halves (you can use 1-1/2 pound pork tenderloins in two pieces, halved; or 1-1/2 pounds of salmon fillets in 4 pieces)
4 teaspoons of Dijon mustard
Directions
Preheat your oven to 400 degrees. Lightly coat a medium baking dish with cooking spray.
Using a food processor, mince the garlic and add the parsley and pulse until everything is combined. Add the bread, parmesan cheese, oil, salt and black pepper to taste. Pulse again until all the ingredients are combined.
Arrange the meat or fish in the baking dish and spread the mustard on top. Then, pat your crumb mixture on top of each piece.
Bake until the chicken is cooked through (about 20-25 minutes). If using pork, cook for about 30 minutes, and about 20 minutes if you're using salmon.
Season with salt and pepper to taste before serving.