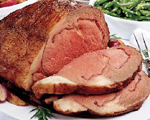 Prep: 25 min
Cook Time: 3 hr 30 min
Total: 3 hr 55 min
Serving: Makes 16 servings
A succulent rib roast that will 'wow' your family and your guests. Serve for Sunday dinner or for the holidays.
Ingredients
2 sticks unsalted butter, softened
1 head of garlic, cloves coarsely chopped
1 cup prepared horseradish
1/4 cup plus 2 tablespoons chopped thyme
3 tablespoons chopped rosemary
3 tablespoons chopped sage
One 16-pound rib roast of beef
Salt and freshly ground pepper
Directions
Preheat your oven to 325 degrees.
Using a food processor, process the butter, garlic, horseradish, thyme, rosemary and sage. The consistency of the mixture will become a thick paste.
Place the rib roast in a large roasting pan with the fatty side up. Rub salt and pepper over the entire roast. Thickly spread the herb and butter paste evenly over the top of the roast.
Put roast in oven and bake for about 3-1/4 to 3-1/2 hours. For a medium rare roast, an internal thermometer should show a temperature of 125 degrees when inserted in the center.
Remove roast from the oven and let rest for at least 25 minutes before carving.