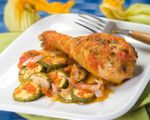 Prep: 15 min
Cook Time: 1 hr
Total: 1 hr 15 min
Serving: 6
Serve this chicken with rice and a green salad.
Ingredients
1 teaspoon dried whole rosemary, crushed
1/4 teaspoon pepper
6 chick breast halves, skinless and boneless
1/2 cup unsweetened pineapple juice
1/4 teaspoon ground ginger
5 shallots, minced
1/4 teaspoon paprika
Directions
Rub rosemary and pepper into the chicken.
Arrange chicken in a 9 inch baking dish.
Combine pineapple juice and ginger in a bowl.
Pour mixture over chicken.
Sprinkle with shallots and paprika.
Cover and bake at 350 degrees F for 30 minutes.
Remove cover and bake another 25 to 30 minutes.