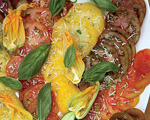 Prep: 10 min
Cook Time: –
Total: 10 min
Serving: 8 servings
Heirloom tomatoes, also known as heritage tomatoes, are a non-hybrid variation of classic tomatoes that come in various shapes, colors, flavors and sizes. Enjoy their gorgeous presentation in this simple salad made with chives, basil and freshly grated Parmigiano-Reggiano cheese.
Ingredients
2 pounds heirloom tomatoes, cored and sliced
Sea salt
Extra-virgin olive oil, for drizzling
2 tablespoons minced chives
2 tablespoons chopped basil
1 tablespoon freshly grated Parmigiano-Reggiano cheese
Directions
Artfully arrange the tomatoes onto a serving platter and then season with a few pinches of sea salt. Sprinkle the chives, basil and cheese over the top of the salad and then serve immediately.