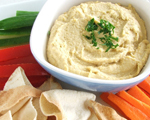 Prep: 15 min
Cook Time: 2 hr
Total: 2 hr 15 min
Serving: Serves 4
A staple in Middle Eastern cuisine, hummus is a thick and rich spread that can also be used as a dip. Enjoy with toasted Arabic pita bread wedges or even slather on a turkey sandwich as a change of pace.
Ingredients
1-1/4 cups dried chickpeas, soaked overnight
1 bouquet garni
1 small onion, sliced
2 cloves garlic, crushed
juice of 2 lemons
4 tablespoons tahini paste
3 tablespoons olive oil
salt and freshly ground black pepper
sprig of parsley
Directions
In a large saucepan, place the drained chickpeas and fill with water; add the bouquet garni and the onion and bring to a boil. Once boiling, turn down heat and simmer for 1-3/4 to 2 hours, or until tender.
Drain the chickpeas, reserving a 1/2 cup of the cooking liquid. Discard the onion and the bouquet garni.
In a food processor, add the garlic, lemon juice, tahini, olive oil and the cooked chickpeas. Process the mixture to a smooth paste. Season with salt and pepper to taste.
If hummus is too thick, add one tablespoon at a time of the reserved cooking water until desired consistency. Empty into serving bowl and garnish with parsley.