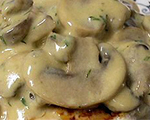 Prep: 5 min
Cook Time: 10 min
Total: 15 min
Serving: 4 Servings
Toss this sauce with your favorite pasta, or pour over baked chicken or roasted pork, for a delicious and creamy accompaniment to your main dish.
Ingredients
4 tablespoons olive oil
1/4 cup chicken stock
2 tablespoons parsley, finely chopped
1-1/2 pound mushrooms, cleaned and sliced
2 cloves garlic, minced
1/4 cup heavy cream
Directions
Place the oil in a medium-sized sauté pan over medium heat.
Add the mushrooms and sauté for about 5 minutes until golden brown, and then slowly pour in the stock and cream, whisking to combine.
Stir in the parsley and garlic and cook mixture for 4 minutes, stirring frequently to prevent sticking.
Season the sauce with salt and pepper and serve immediately.