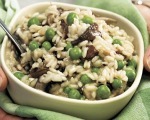 Prep: 5 min
Cook Time: 15 min
Total: 20 min
Serving: Serves 4 people
Risotto is an elegant substitute for the usual pasta or rice dish. Hearty Mushroom Risotto is easy to make and perfect for your family or entertaining.
Ingredients
1 cup portobello mushrooms, sliced
1 cup shiitake mushrooms, sliced (discard stems)
1/2 cup onion, finely chopped
2 cups uncooked arborio rice
1 tablespoon vegetable oil
2 tablespoons Worcestershire sauce
2, 10-ounce cans condensed chicken broth
2-1/2 cups of water
1/2 cup frozen peas
1/2 cup Parmesan cheese, freshly grated
Directions
Using a large saucepan over medium-high heat, add the vegetable oil. Add the mushrooms and onion and cook until tender (about 3 minutes). Add the Worcestershire sauce and cook, stirring, until the liquid is absorbed.
Add the rice to the saucepan and cook, stirring constantly, for a few minutes. In a separate bowl, combine the broth and 2-1/2 cups of water. Next, add 4 cups of the combined liquid to the rice and heat it until it boils.
Once boiling, reduce the heat to medium-low and cook uncovered, stirring often, until the liquid is absorbed (about 8 minutes). Add the remaining broth, 1/2 cup at a time. Cook and stir until the rice is firm but tender.
Add the peas and cheese to the mixture. Cook for about a minute and remove from the heat.