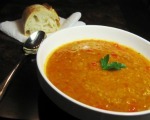 Prep: 10 min
Cook Time: 10 min
Total: 20 min
Serving: Serves 2 people
This soup is full of protein, is healthy and hearty. Hearty Lentil Soup makes a perfect vegetarian meal. Serve crunchy bread with this soup. Broth can be omitted for a thicker soup.
Ingredients
1, 15-ounce can of lentils
1, 14.5-ounce can of stewed or diced tomatoes
1 cup of vegetable broth
1 teaspoon of minced garlic
1/2 teaspoon of dried oregano
1/8 teaspoon crushed red pepper flakes
sea salt to taste
1 tablespoon of extra virgin olive oil
Directions
Combine lentils, tomatoes, vegetable broth, garlic, oregano and red pepper in a medium-sized saucepan.
Add salt to taste and bring to a boil, reduce heat and simmer uncovered for about 10 minutes.
Just before serving, stir in olive oil. If you would like the soup to be thicker, leave out the vegetable broth.