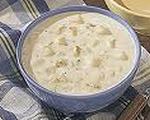 Prep: 30 min
Cook Time: 20 min
Total: 50 min
Serving: 6
Hearty Golden Chowder is a meal in a bowl.
Ingredients
2 potatoes, chopped fine
2 cups carrots, diced fine
1/2 cup celery, diced
1/4 cup onion, chopped
1 tablespoon chopped chives
1 teaspoon salt
1/4 teaspoon pepper
2 cups boiling water
1/4 cup margarine
2 cups milk
1/4 cup flour
2 cups sharp Cheddar cheese, shredded
Directions
Add the potatoes, carrots, celery, onions, chives, salt and pepper to the boiling water. Microwave on high 10 minutes. Do not drain. Set aside.
Make a white sauce with the margarine, flour and milk. Add the sauce to the vegetables and microwave 2 minutes. Add cheese and stir until melted. Microwave to reheat but do not allow to boil.