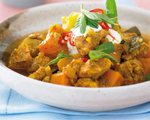 Prep: 10 min
Cook Time: 30 min
Total: 40 min
Serving: 6 Servings
A warm and filling stew ideal for a cool fall night, this comfort food has a secret ingredient that adds texture and creaminess.
Ingredients
1 tablespoon canola oil
1-1/2 pounds skinless, boneless chicken thighs, visible fat trimmed, cut in 1-inch pieces
1 medium onion, chopped
1 red pepper, cut in 1-in. pieces
1 teaspoon minced garlic
1 can each (141/2 oz each) chicken broth and diced tomatoes
1 tablespoon smoked paprika
1/2 teaspoon salt
3 cups 1-inch cubes peeled sugar pumpkin or butternut squash (1 pound)
8 ounces fresh green beans, cut in half
1 tablespoon cornstarch
1/4 cup reduced-fat creamy peanut butter
Directions
Place the oil in a large saucepan over medium-high heat, and add the chicken and sauté for 4 minutes. Remove from pan and set aside.
Place the onion, pepper and garlic into the pan and sauté for 5 minutes, then add the 1-1/2 cups broth, tomatoes, paprika and salt and bring to a boil.
Once the mixture begins to boil, add the chicken, pumpkin and the beans, cover and simmer over medium-low heat for 12 minutes.
In the meantime, pour the remaining broth, the cornstarch and the peanut butter into a bowl and whisk to blend. Add the mixture to the pot during the last 3 minutes of cooking.