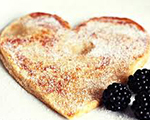 Prep: 15 min
Cook Time: 20 min
Total: 35 min
Serving: 6 cups pancake mix
Enjoy this guilt-free comfort food more often with this heart healthy version of homemade pancakes.
Ingredients
2-1/2 cups whole-wheat flour
1 cup buttermilk powder
5 egg whites
1/4 cup sugar
1-1/2 tablespoons baking powder
2 teaspoons baking soda
1 teaspoon salt
1 cup flaxseed meal
1 cup nonfat dry milk
1/2 cup wheat bran or oat bran
Directions
Place the flour, buttermilk powder, sugar, baking powder, baking soda and salt in a large bowl. Whisk together and then stir in the flaxseed meal, dry milk and bran.
In a medium bowl, add the egg whites, 1-1/2 cups nonfat milk, 1/4 cup canola oil and 1 teaspoon vanilla. Whisk together to combine.
Make a well in the center of the dry ingredients, and then add the milk mixture. Stir until just combined and then let stand for 6 minutes.
Spray a large skillet with non-stick cooking spray and place over medium heat. Add about 1/4 cup batter for each pancake and cook for 2 minutes or until bubbles begin to form. Flip the pancake and cook for an additional 2 minutes. Serve immediately.