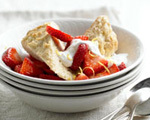 Prep: 20 min
Cook Time: 18 min
Total: 38 min
Serving: 4 Servings
This strawberry shortcake is made with plain low-fat Greek-style yogurt instead of heavy, fat laden cream.
Ingredients
1 cup plain, low-fat Greek yogurt
Shortcake
1-1/4 cups all-purpose flour
1/4 cup whole wheat flour
2 tablespoons sugar
2 teaspoon baking powder
1 teaspoon finely shredded lemon peel
1/4 teaspoon salt
1/4 cup butter
1 egg, lightly beaten v
2 tablespoon fat-free milk
6 cups sliced strawberries
Directions
Preheat the oven to 375 degrees and spray a baking sheet with cooking spray.
Place the flours, sugar, baking powder, lemon peel, and salt in a large bowl, whisk to combine, then add the butter and mix until mixture is crumbly.
Place the egg, milk and 1/2 cup yogurt to a bowl and stir to combine. Add the milk mixture to the flour mixture and mix until just moistened.
Spread the mixture onto the prepared baking sheet and place in the oven for 18 minutes.
Remove the shortcake and cool for 10 minutes before breaking into pieces and placing into a bowl. Top with the strawberries and remaining yogurt.