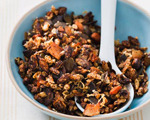 Prep: 5 min
Cook Time: 29 min
Total: 34 min
Serving: 4 Servings
This is such a simple, as well as healthy way to appease your hankering for a crispy and satisfying snack treat.
Ingredients
4 cups whole grain cereal
1-1/2 cups hulled pumpkin seeds
1/4 cup olive oil
2/3 cup finely grated Parmesan cheese
Directions
Preheat your oven to 350 degrees.
Place the cereal, pumpkin seeds, oil, and Parmesan cheese into a large bowl and toss well until thoroughly combined.
Evenly spread the mixture onto a baking sheet and place in the oven for 20 minutes, tossing the mixture every 5 minutes to ensure even cooking.
Remove the mixture from the oven and cool prior to serving.