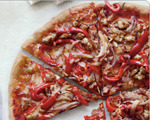 Prep: 20 min
Cook Time: 15 min
Total: 35 min
Serving:
A whole-wheat crust, chicken sausage and a ton of veggies make this sausage pizza surprisingly healthy.
Ingredients
2 teaspoons olive oil, divided
4 ounces sweet Italian-flavored chicken sausage, roughly chopped
1⁄4 teaspoon crushed fennel seed or crushed red pepper
1 medium red bell pepper, cut into 1/4-inch strips
1 medium red onion, cut into 1/4-inch strips
12 ounces store-bought whole-wheat pizza dough
Cornmeal for pan
1⁄4 cup jarred pizza sauce
3 ounces shredded part-skim mozzarella (about 3/4 cup), divided
Directions
Preheat oven to 450 degrees F with rack in the lowest position. Pour 1 teaspoon oil into a large nonstick pan and heat over medium-high. Add sausage and sauté for 3 minutes or until just brown, stirring occasionally. Add fennel and red pepper; sauté for 1 more minute. Transfer to a plate. Add remaining teaspoon oil to pan with the bell pepper and onion. Sauté for 10 to 12 minutes or until softened and lightly charred.
While sweet peppers and onions are cooking, roll out whole-wheat pizza dough to a 12-inch circle. Dust a baking sheet with cornmeal and arrange crust on top. Poke lightly with a fork. Bake for 6 minutes or until slightly puffed. Remove from oven; prick any bubbles. Spread with sauce, leaving a 1∕2-inch border; top with 1∕2 cup cheese.
Arrange sweet peppers and onions over top, sprinkle with remaining cheese, and top with sausage. Bake for 10 minutes more or until cheese is melted and pizza crust is golden and crisp. Let cool slightly before slicing into 8 pieces, then serve.