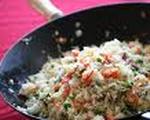 Prep: –
Cook Time: 7 min
Total: 7 min
Serving: 2-4 People
Another take-out favorite, fried white rice can be high in fat and sodium. This healthy rendition of Chinese Fried Rice is low in fat but loaded with flavor. Next time your craving for Chinese food arises, give this veggie-dense fried brown rice a taste.
Ingredients
1 tablespoon canola oil
1, 8-ounce, package fresh sugar snap peas
1/2 cup matchstick-cut carrots
1/4 cup finely chopped red bell pepper
4 green onions, sliced (green and white parts)
1 tablespoon grated fresh ginger
2 garlic cloves, minced
2 to 3 cups cooked brown rice
2 large eggs, lightly beaten
3 tablespoons tamari sauce
2 teaspoons toasted sesame oil
Directions
Heat oil in a large skillet over medium-high heat. Add peas, carrots, and bell pepper and cook, stirring often, for 3 minutes or until carrots are just tender. Add green onions, ginger, and garlic and cook, stirring often, for 1 to 2 minutes.
Add rice and stir to combine, cooking until rice is heated through. Make a well in the center of the rice and add eggs. Cook, stirring occasionally, for 1 to 2 minutes or until scrambled. Toss rice with eggs and stir in tamari and sesame oil. Serve hot.