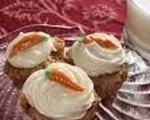 Prep: –
Cook Time: –
Total: –
Serving: Makes 12
Kids love the idea of having cake for breakfast, but they also like little cakes they can wrap their hands around. This carrot breakfast cake recipe is baked in a muffin pan. If you would rather have it in cake form, simply spoon into a 9- or 10-inch cake pan and bake at 350 degrees F for 30 minutes, or until cooked through.
Ingredients
1 cup all-purpose flour
1 1/2 cups whole wheat flour
2 teaspoons baking powder
2/3 cup almond meal
1 teaspoon ground cinnamon
1/2 teaspoon ground allspice
1/2 teaspoon salt
2 eggs
1 cup plain yogurt
1/2 cup granulated sugar
2 teaspoons vanilla extract
Grated zest of 1 lemon
3 cups grated carrots
1/2 cup dried currants
Spreadable cream cheese
Directions
Preheat oven to 400 degrees F. Grease a 12 cup muffin pan, or line with papers.
In a large bowl, whisk together flours, baking powder, almond meal, cinnamon, allspice, and salt. In a second bowl, beat together eggs, yogurt, sugar, vanilla, and lemon zest. Stir carrots and currants into egg mixture.
Add wet ingredients to dry ingredients, stirring until just combined. Divide among muffin cups.
Bake for 20 to 25 minutes, or until muffins are golden and spring back when pressed. Cool slightly on a wire rack. Serve topped with cream cheese.