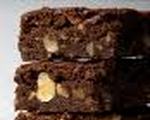 Prep: –
Cook Time: 25 min
Total: 25 min
Serving: 4-6 People
Brownies are a kid-friendly fave that are traditionally high in fat, sugar, and calories. These Better for You Brownies get a healthy makeover with applesauce, less sugar, and whole wheat pastry flour.
Ingredients
1/2 cup good quality unsweetened cocoa powder
1/2 cup white whole wheat pastry flour
1/2 cup granulated sugar
1 teaspoon salt
1 teaspoon pure vanilla extract
1/2 cup unsweetened applesauce
2 eggs
1/2 cup chopped walnuts
Directions
Preheat oven to 350 degrees F. Grease an 8-inch square baking pan.
In a large bowl, whisk together cocoa powder, white whole wheat pastry flour, sugar, and salt.
In a small bowl, whisk together applesauce, eggs, and vanilla. Add wet ingredients to dry ingredients and stir only until moistened. Pour into prepared pan and sprinkle with chopped nuts.
Bake for 20 to 25 minutes, or until desired texture is reached. Less time will result in a denser chewy brownie while more time will result in a cake-like brownie. Let cool slightly then invert onto a cutting board and cut.