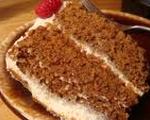 Prep: –
Cook Time: 25 min
Total: 25 min
Serving: Serves 8 to 10
Chunks of banana and yogurt make this hearty breakfast cake tender and moist. For an added health benefit, omega-3 rich flax is used in place of eggs. If you don't have ground flax on hand, simply substitute 2 large eggs.
Ingredients
2 tablespoons ground flax plus 6 tablespoons water
1/3 cup granulated sugar
2 tablespoons unsalted butter
1 1/2 teaspoons pure vanilla extract
2/3 cup plain yogurt
3/4 cup all-purpose flour
3/4 cup whole wheat flour
1/2 teaspoon sea salt
1 teaspoon baking powder
1 teaspoon baking soda
1 teaspoon ground cinnamon
1/2 teaspoon ground allspice
1/2 teaspoon ground ginger
3 medium-sized very ripe bananas, peeled, cut into chunks
Directions
Preheat oven to 375 degrees F. Grease a 9-inch cake pan.
Whisk together flax and water and set aside for 5 minutes. In a stand mixer, cream sugar and butter. Add flax mixture, vanilla, and yogurt and blend until smooth.
In a mixing bowl, whisk together flours, salt, baking powder, baking soda, and spices. Add flour mixture to yogurt mixture and blend on low until ingredients are just moist.
Add bananas and blend on low, just until incorporated, taking care not to mash the bananas. Bake for about 25 minutes, or until cake is lightly browned and springs back when touched.