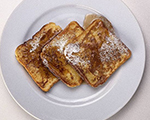 Prep: 10 min
Cook Time: 13 min
Total: 23 min
Serving: 4 Servings
Baking the French toast in this recipe, instead of frying it, not only cuts down on fat and calories but also makes this popular breakfast treat light and delicious.
Ingredients
Nonstick cooking spray
1 slightly beaten egg
1 slightly beaten egg white
3/4 cup fat-free milk
1 teaspoon vanilla
1/8 teaspoon ground cinnamon
8 1-inch-thick slices firm-textured French bread
powdered sugar (optional)
Directions
Preheat the oven to 450 degrees and spray a baking sheet with the non-stick cooking spray.
In a shallow bowl, add the egg, egg white, milk, vanilla, and cinnamon and mix together by beating with a fork.
Place the slices of bread in the egg mixture and soak each for 1-1/2 minutes per side for each slice, and then place onto the prepared braking sheet.
Place the baking sheet in the oven and cook for 6 minutes or until the bread slices become golden brown. Flip slices over and bake for an additional 7 minutes.
Sprinkle the French toast with powdered sugar and serve immediately with maple syrup or honey, and a pat of butter.