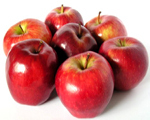 Prep: 5 min
Cook Time: 20 min
Total: 25 min
Serving:
Homemade applesauce is a great puree for baby or any family member.
Ingredients
Apples (gala, macintosh or braeburn or great choices)
Directions
Wash the apples and then peel and core.
Add to a pot or a steamer, using just enough water to cover.
Cook until tender. Mash using a potato masher for a thicker applesauce consistency.
Optionally, puree using a blender or food processor. Use reserved liquid from cooking to thin if needed.
Freeze immediately in covered trays or keep in the refrigerator for up to 3 days.