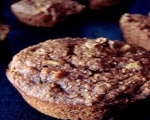 Prep: 20 min
Cook Time: 25 min
Total: 45 min
Serving: 12 people
Kids and adults alike will love this healthy, fiber-packed apple bran muffin.
Ingredients
1 cup whole bran cereal
1/2 cup skim milk
1 cup whole wheat flour
1 teaspoon baking powder
1/2 teaspoon ground cinnamon
1/4 teaspoon ground nutmeg
1/3 cup butter
1/3 cup brown sugar
2 egg whites
1 cup apples, chopped
1 cup golden raisins
Directions
Preheat oven to 350 degrees F.
Line a 12-cup muffin tin with paper muffin cups.
Soak the bran cereal in 1/2 cup of skim milk until the liquid is absorbed.
Meanwhile, in a large bowl, combine the flour, baking powder, ground cinnamon and ground nutmeg.
In a separate bowl beat the butter and brown sugar until creamy.
Add the egg whites and beat well.
Stir in the apples, raisins and bran mixture.
Add dry ingredients and mix well.
Pour into the prepared cups and bake 25 minutes or until a toothpick inserted in center comes out clean.